In a world of ever-changing moments, bring back the excitement of a Letter in the Mail, while at the same time, show how unique you are -- great to give as gifts to moms, dads, grandparents, teachers, brothers, sisters, or just to treat yourself!
Presenting~Truly Yours® Photo-Personalized Stationery
And Other Products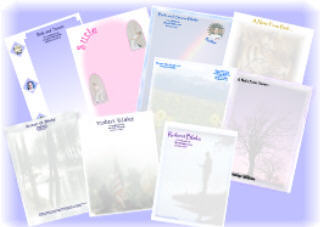 All stationery is printed on 8 1/2 x 11", Bright White, 24 lb paper for maximum photo-quality image. Each style includes your choice of font, edge and font color, your name, address, email, phone number, and fax number. Add your favorite quote or one from the Quotes Page for $1.00. Any request to use photographs from a professional photographer must have a copyright release form included, with the name, phone number, and address of the photography studio./photographer. No pornographic or lewd items will be processed. Any items of this nature will be scrapped.
Other Products ...

Note Pad Covers: Photo-Personalized Cover for 5" x 8" sized "mini" legal pads, which are attached inside by Velcro®. Each Personalized Note Pad Cover includes 2 pads and three strips of Velcro® so you can purchase your own "mini" legal pads separately and attach for continued use. Note Pad Covers are laminated and can be made with your photos, or "my favorites".
Samples Are Available - Please email us at: papercreationsbycarm@lycos.com
Specify Style Letter When Requesting and include your
Name, Address, and email address
Price Schedules are noted on the individual Style
100% Money Back Guarantee
If you are not completely satisfied with your product, Call or email us within 30 days from the date you receive your stationery to arrange for return of the product and your full refund